Spinning Wheel Hire Perth.
Spinning Wheel Hire, Looking to adda little extra fun to your next party ? then this is a must have item. Just add whatever categories you like and spin the wheel. Wheel can easily be wiped to add new games.
Comes with bright Vertical LED light changing effects.
PLEASE NOTE NO CLICKING FUNCTION.
Can be collected the day before at no extra cost.
---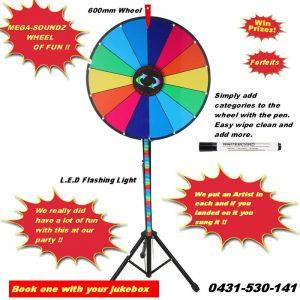 $60
---