UV Bubble Fluid Hire Perth
UV fluid for use with our Bubble Machine's for a great effect at your next party, you will need to hire a UV Light for this to work.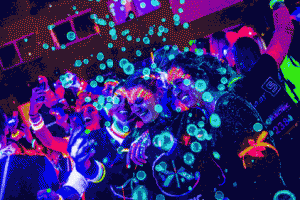 Per Ltr $40.
WILL UV BUBBLES STAIN ?
We have found that if people are just passing through the bubbles or are simply allowing bubbles to settle on them, the bubbles should not stain their clothes. The splatter will be visible in the back lights until the clothes are washed. Bubbles could stain clothes if the bubble fluid totally saturates the fabric, If Saturation occurs, the clothes should be treated with a color safe stain remover before being washed. We recommend avoiding fabrics like silks. Uv bubbles will wash off solid surfaces and can be vacumed out of most carpets.
---

KARAOKE HIRE PERTH  TOUCHSCREEN JUKEBOX SLUSHIE MACHINE