Latest Jukebox Machines only available from Mega-Soundz(NO LAPTOPS OR DISCS)
Big Weekend for Jukebox Hire outs, systems were rocking all over Perth, the one below was at East Vic Park for 13th Birthday Party set up in an estate agents office a first for us.Touch screen Karaoke Jukeboxes with 1000's of songs and Music videos were a big hit with kids, as always book in early to avoid disappointment if you want the best Machines.Looking for karaoke Jukebox Hire near me, no problem we deliver to a large area of Perth.
Have a great week !!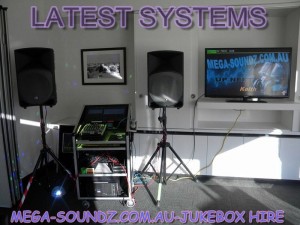 Don't settle for anything but the best equipment and service !!
---