Slushie Machine Hire Perth
Twin Slushie Hire Perth(20 ltrs)
Slushie machine hire Perth with extra large twin slushie bowls,(20 LTRS) enough slushie for up to 75 people, supplied with paper cups and straws, comes on it's own slushie machine stand. Quality mixes supplied.
$220 INCL 2 STANDARD FLAVORS
Strawberry and Blue Heaven supplied if you do not request flavors.
---
TWIN 2 X 4.5 LTRS + EXTRA 4 LTRS TOP UP MIX.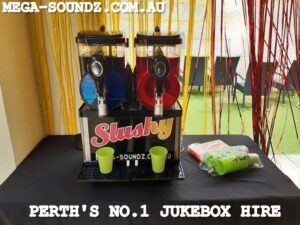 $179 INCL 2 STANDARD FLAVORS
Supplied with 50 cups and straws.
Strawberry and Blue Heaven supplied if you do not request flavors.
We can supply a sturdy table if required. $10
---
Single Slushie Machine Hire
(4.5 ltrs) + EXTRA 2 LTRS TOP UP MIX.
ONLY AVAILABLE WITH JUKEBOX HIRE.
Single Bowl Slushie  Machine delivered and setup incl 25 cups, straws and one standard mix

$99
Strawberry supplied if you do not request a flavor.
We can supply a sturdy table if required. $10
---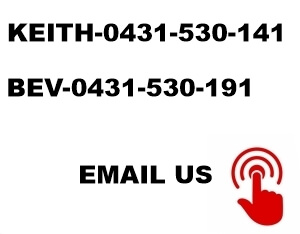 ---
What is the difference between the standard and the cocktail mix?
Though both are good, the cocktail syrups have special flavoured essences added to mimic the original cocktails, even if you don't want to add alcohol, (mocktails).
Can I add alcohol?
Alcohol can be added to any of our flavours, STANDARD OR COCKTAIL but, to reduce the amount of time to freeze, add the alcohol to the machine once the slush mix has already frozen.
How much alcohol can you add?
Usually add 700ml – 1000ml per one full bowl of slush in the machine, a standard machine bowl will hold 10 litres of frozen slush.
Can I just use cordial?
Our syrups are manufactured specifically for use in slushie machines, which have the correct mix levels. That is the ratio of sugar to water. These levels have to be exact to prevent damage to the machine.
Do the syrups contain sugar?
Yes, all our syrups contain sugar as it is the sugar to water ratio that causes the soft ice slush to form.
Handy Tips for your Slushy Machine –
To save time, store spare mixes in a fridge so when needed it will freeze more quickly.
If adding alcohol, do so when syrup is already frozen, mix syrup correctly and fill your machine, once frozen then add the required amount of alcohol into the mixture.
Keep your machine well ventilated, it needs room on each side to "breathe" and will overheat and refuse to freeze if you don't give it enough space
Standard Slushie Flavors:
Strawberry, Blue Heaven, Tropical, Grape, Cola.
We Supply Strawberry with Single, Blue Heaven and Strawberry with twin if no flavour is specified when booking. Both very popular. Adult flavors may have to be ordered in, so we need 2 weeks notice.
---
ADULT FLAVORS EXTRA $10 PER MIX
---
Watermelon Mai Tai
Watermelon, Pineapple,
Lime and Cranberry
---
Sex on the Beach
Peach, Cranberry
and Orange
---
Cosmopolitan
Cranberry, Orange,
Lime and Strawberry
---
Mellusion
Melon and
Pineapple
---
Fruit Tingle
Orange, Banana, Pineapple
and Passionfruit
---
Mango Daiquiri
Sensational real
Mango Daiquiri
---
Margarita
Original Lemon
Lime Margarita
---
Mojito
Lime flavoured cocktail
with a hint of mint
---
Blue Lagoon
Orange, Pineapple
and Coconut
---
Lemon, Lime & Bitters
Classic Lemon,
Lime and Bitters
---
Piña Colada
Pineapple and
Coconut
---