The Best Karaoke Songs To Sing.
Best Karaoke songs, so before you approach the stage, I'd would recommend having a few songs in mind. Deciding ahead on what you will be singing can be especially helpful for beginner karaoke singers, since it will take the stress away from choosing the songs on the night. But there's a lot more to it than just picking your favorite song and blasting it out.
Let's say you like the Beatles, that doesn't mean you can sing it in the original key without straining, John had a very high singing voice, and most males are baritones. So, decide "When I sing along to my favorite songs, which singer am I most comfortable singing with?"
Use this as your guide for picking your Karaoke song and since karaoke is about fun, don't forget to pick a song that you like singing It's usually a better idea to choose something more up beat as it's less likely for nerves to show, If you're a little nervous and singing a ballad, it can show.If your really nervous get up and sing a duet with a friend, it's a great way to build singing confidence.
Hire A Great Jukebox And Practice At Home.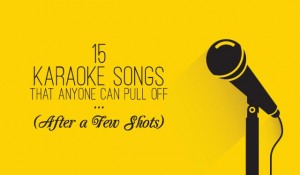 Dancing Queen-Abba
Summer of 69-Bryan Adams
Bohemian Rhapsody-Queen
You Shook Me All Night Long- AC/DC
Gambler-Kenny Rogers
Sexy And I Know It-Lmfao
Loveshack-B52's
I love Rock N Roll-Joan Jett
Walking In Memphis-Cher
500 miles-Proclaimers
YMCA-Village People
Valerie-Amy Winehouse
My Way-Frank Sinatra
Wonderwall-Oasis
It's Raining Men-Weather Girls
5 Great Tips for Singing Karaoke Songs.
Here are some other ideas to keep in mind about how to have a great karaoke night:
Feel confident, Start with a smile and Good stance with your feet shoulder width apart.
Choose a Karaoke song you really know so you're not always having to look at the Words on the screen. Don't forget that you have an audience that wants you to sing to them and interact with them.
Remember it's all about fun, don't take yourself too seriously. If you pick a song you love to sing, it will show when your performing, that's when you can expect good compliments on your singing.
Use good vocal technique's, breathe low, and keep your sound placed in your mask rather than shouting into the microphone.
You Can Practice at home, YouTube has many excellent channels to sing along with.
Some Great Reasons to Sing.
1. Singing can help you to relax. Deep breathing is one of the elements to singing that is different than when we talk. When we talk we use shallow breaths but when we sing we breathe a lot deeper and hold onto the air longer.When we are using this deep breathing during singing, we take in a lot more oxygen than when speaking which will help us to become a lot more relaxed.Singing is a means of self expression and a way to release built up emotions.Therefore, a level of inner freedom is reached emotionally when singing, anger, depression and anxiety are reduced and in many cases completely gone.
2.Singing is a super aerobic activity that actually increases oxygen in the blood stream and exercises some of the major muscle groups in the upper body, even when in a sitting posture. It can decrease the risk of common diseases like,  high cholesterol, heart disease and cardiovascular disease, so start singing your way to Mega health.
3.Singing strengthens the memory and your power of concentration. When you practice singing, you are exercising your brain and like the rest of your body the brain needs regular exercise too. Learning to sing new songs and memorizing the words to songs helps strengthens the brain connections.
4.Singing helps to develop the skills to speak in a natural, strong and confident voice. It can help to improve your speaking voice with more clarity and greater confidence. Singing also releases a hormone called oxytocin, which can help reduce anxiety and will help you overcome your fear of public speaking.
Best Foods For The Singer
Vocal Lubricants–Water and food never actually comes in to direct contact with the vocal cords, but there are some foods that can activate saliva production, bringing some relief to singers who suffer from a dry mouth before performing.Some great drinks and foods include Ginger Tea, apples, lemons and hard candy. If you're feeling a bit hoarse or scratchy in you throat then a spoonful of honey will soothe your throat and in turn will help to fight off bacteria.
Great Karaoke Venues In Perth To Sing At
KARAOKE HIRE PERTH BEST SOUNDING MACHINES IN PERTH
TOUCHSCREEN JUKEBOX KARAOKE AND MUSIC VIDEOS
Karaoke Perth WA